Deprecation warning: This post is deprecated. Please find our new documentation at: https://dietpi.com/docs/dietpi_tools/#configuration
DietPi-Services
DietPi-Services allows to control the service states of all installed software, as well as tweak system wide nice/priority levels, CPU affinity and scheduler policies.
DietPi will automatically start and stop services as needed, e.g. during boot, shutdown, backups and software installations.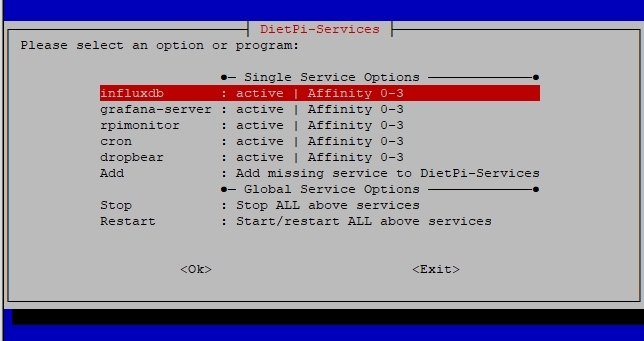 Stop services:
dietpi-services stop
Start services:
dietpi-services start
Service status:
dietpi-services status
Include/Exclude services:
Option 1

: Start

dietpi-services

and use the

Add

menu entry, respectively the

Include/Exclude

service submenu entry.

Option 2

: Create/edit the following file:

/boot/dietpi/.dietpi-services_include_exclude


Add + entries for each additional service you wish to control. Add - entries for items you wish to exclude. Example:

Code: Select all

+ service1
- deluged
- deluge-web
+ mightymoocow
- lighttpd
Process tool tweaks:
Nice:


As all active processes share the same CPU, DietPi-Process Tool allows you to control which processes are more or less important. By setting a higher priority level (nice), the software process will be given more of the CPU shared resources, essentially reducing any delay from other software processes.

Affinity:


For systems with multiple cores, you can control which cores are available for each program.

Scheduler policies:


For time critical programs (eg: audio processes / robotics), setting the scheduler to FIFO/RR will ensure maximum priority and "real-time" execution. Further information.

Example system:

Your server runs Pi-hole and a web server.
Pi-hole is the main use of this server, and, you want to reduce any possible delay from other programs.
So we set Pi-Hole to a higher priority level of nice -10.
Pi-hole will now be more responsive. Its users should not experience random delays when browsing the web.
>>
Return to DietPi-Software List