Setting up a Forge Minecraft server (Java)
under DietPi v6.31.2 (64bit) on RaspberryPi 4
making it a little more secure with no root access via ssh
and maybe taking this little extra security away again by installing Java 8
(some older minecraft versions need their corresponding Java version)
plus making it accessable through IPv4 and IPv6 and a Portmapper with a very cheap service called feste-ip.net


Do you have kids who play minecraft? And do your kids have friends (in real life) who would like to play minecraft, too?
Would you like to let those kids experience playing minecraft together online without the dangers of the internet?
Then a RaspberryPi 4 4GB (or even the latest with 8GB) and the DietPi 64bit-version are the right choice for you.
This SBC is very affordable and also a good starting point if you want to know and learn more about computers and linux and how it all works together.
When you have finally found out what to do it is super easy to setup.
That's why I decided to make this tutorial - to put all the information I had to collect in many places into one single thread.
Let's get started:
First flash your DietPi image on the SD card you want to use. It has to be the 64bit (beta) image of the latest DietPi version.
Here is the official link on how to:
How to install DietPi - DietPi.com Docs
The next tool we need will automatically launch when you first boot your Raspberry Pi using DietPi after the initial configuration process has completed. You can also launch it manually by typing
dietpi-software

in the terminal. Use Putty to connect to it using the right IP address and port 22. You can find the IP address in the network settings of your router for example.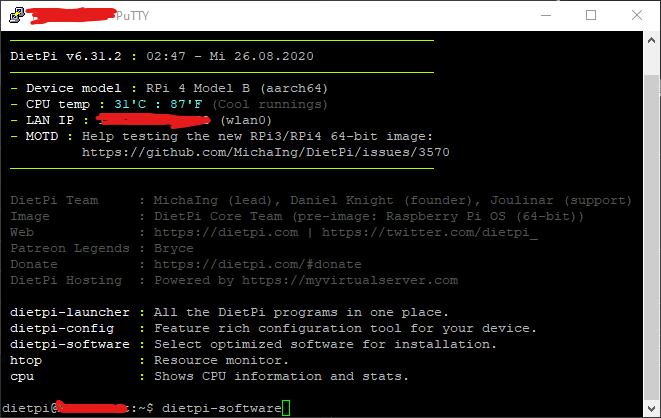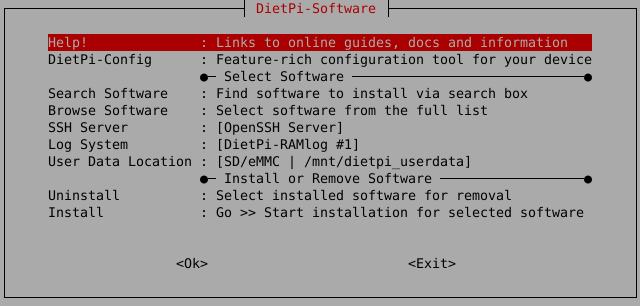 Select Software Optimised and on the next screen choose MineOS by hitting space when it is highlighted.

Also install
proFTP
as your file server - you'll need it to put your mods on the server.
Then hit Install and Ok.
Another tool we need is "dietpi-config", which you can launch by typing
dietpi-config

in the terminal.

Here we can adjust some general settings like
language and timezone
in the
Language/Regional Options
,
but also the
GPU/RAM Memory Split
to give the server all the RAM possible in the
Display Options
.
In the
Network Options
we can setup the wifi adapter and
turn IPv6 "on"
if it is not already.
If you want to, you can set these adjustments before the installation of your DietPi image.
There are two .txt files you can edit accordingly:
dietpi.txt and dietpi-wifi.txt can be found in the boot-directory of your image.
Both are self-explanatory.
You even can turn off HDMI completely, if you want to do the setup via Putty (ssh) - then you don't even need to worry about the GPU/RAM Memory Split anymore.
Now lets make everything a litle more secure by disabling remote-login as root.
nano /etc/default/dropbear

change
DROPBEAR_EXTRA_ARGS=

to
DROPBEAR_EXTRA_ARGS=-g