Allo, Allo!
Allo are a relatively new on the SBC scene, but some of you may know them for their high-end Allo Piano DAC's. However, Allo have created a complete HiFi SBC kit, that is quite possibly the very best in high-end audio.
**Vana Player Bundle:******We all love our DAC HATS at DietPi, however, as it turns out, there is higher level of audiophile goodness, for those who seek playback perfection.
Sparky SBC: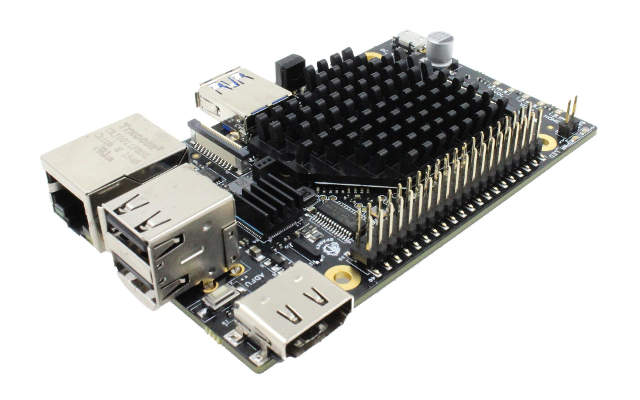 Allo's first SBC is unique, in the way that it was designed for high end audio at its core. Usually, we see the SBC released first, then the HATS follow. However, Allo are different, by using their experience and knowledge of their existing DACs + HATS first, they then created a brand new SBC that compliments high-end audio.
The Sparky SBC can be compared to the Raspberry Pi in terms of performance, but also features a USB3.0 socket. Excellent quality craftsmanship, and, sufficient heatsinks the RPi 3 would be jealous of.
Kali Re-clocker:

A game changer in the audio HAT world. This unit increases the accuracy of the digital signals sent to your DAC. Effectively, this improves the overall accuracy and soundscape of the end digital to analogue conversion.
Think of the Kali as a extremely accurate clock, that sends the digital audio data to your DAC, in a highly consistent manner.
Panio 2.1:

This 384KHz/32bit high-end audio DAC monster features 2x PCM5142, with integrated DSP filters, and, separate subwoofer RCA's (that feature a dedicated volume control in alsamixer, various 2.x output options and changeable crossover frequency).
The sound is warm, full, crystal clear. A true high-end audio DAC HAT to wake your neighbors up.
Volt:

Got speakers? Need AMP? No problem. The Volt AMP will provide clean audio and power to your speakers, up to 50W per channel.
CM (Capacitance multiplier):

Don't be scared by the size of capacitors on this device, they are key to what this unit achieves.
SBC's require power, depending on the quality of the PSU, noise and ripples can be transferred through the PCB and affect other components on the device (eg: DAC HAT).
By using large capacitors, this unit will smooth out the power supply to your SBC, reducing noise and ripples that would otherwise end up in your ears.
You could say, whats the point of all this? Well, every little thing adds up. Its the equivalent of choosing a more expensive 99 octane fuel for your car, instead of 95 octane, it sounds (and performs) better!
Conclusion:

The Allo Vana Player bundle is the ultimate in high-end (and still affordable) audio. It truly is a game changer that seeks, and delivers, audio perfection at the highest possible levels.
Love audio? Love Allo. You will not be disappointed.
10% off Vana Player Bundle for DietPi users:Simply use the following coupon code during checkout: