I installed DietPi to get a "preconfigured" Nextcloud install. I have a W10 NAS for all the shares, which are working fine for my Plex Media Server running on a headless Ubuntu server. However, Nextcloud is having issues with the mounted share (starting with just one share until I figure this out).
I set up a Samba share via drive_manager and it created the following fstab entry:
//192.168.1.180/george /mnt/george1 cifs username=nextcuser,password=[password],iocharset=utf8,uid=dietpi,gid=dietpi,file_mode=0770,dir_mode=0770,vers=3.1.1,_netdev,nofail,noauto,x-systemd.automount

Under /mnt, I now have the following entries:
root@DietPiNextCloud:/mnt# ls -rtl
total 8
drwxr-xr-x 2 root   root   4096 Jul 10 22:59 ftp_client
drwxrwx--- 2 dietpi dietpi    0 Jan  2 19:05 george1
drwxrwxr-x 8 dietpi dietpi 4096 Jan  7 21:20 dietpi_userdata

Browsing 'george1', I see all the files and folders on my NAS. So far, so good.
In Nextcloud, I installed the 'External Storages' app and tried to add the locally mounted drive 'george1' as a folder named 'George2'. I used numbers to keep things straight as to what was being referenced no matter where I looked.

The green check means that Nextcloud can access the storage location.
Under External Storages, Nextcloud now shows the shared folder I created: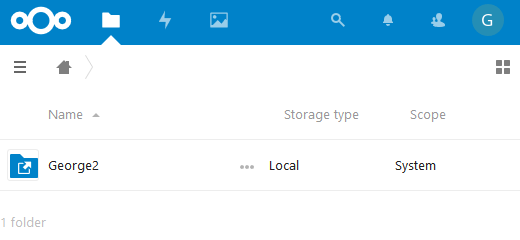 However, when I click on 'George2', it doesn't bring up the actual contents of the share on my NAS. Instead, I get this:

… which appears to be the contents of:
root@DietPiNextCloud:/mnt/dietpi_userdata/nextcloud_data/George/files# ls
 Documents  'Nextcloud intro.mp4'  'Nextcloud Manual.pdf'   Nextcloud.png   Photos

These are the default files and folders for each user created in Nextcloud.
Any idea what's going on?