Hi All,
I would like use HDMI passthrough in KODI.
And I can't select HDMI device in Audio Output Device.
Thanks for looking into it, let me know if there is anything else you need!
Creating a bug report/issue
Required Information
DietPi version |
G_DIETPI_VERSION_CORE=8
G_DIETPI_VERSION_SUB=23
G_DIETPI_VERSION_RC=3
G_GITBRANCH='master'
G_GITOWNER='MichaIng'
G_LIVE_PATCH_STATUS[0]='applied'
G_LIVE_PATCH_STATUS[1]='applied'

Distro version |
bookworm

Kernel version |
Linux DietPi 6.1.50-current-meson64 #2 SMP PREEMPT Wed Aug 30 14:11:13 UTC 2023 aarch64 GNU/Linux

Architecture |
arm64

SBC model |
Odroid N2 (aarch64)
Additional Information (if applicable)
Software title | KODI - The software was installed freshly

Bug report ID |
dce94cb9-2929-4ffc-bcb2-7acd71f5867e
Steps to reproduce
Go to Dietpi-Config > Audio Options > OK
Change the Sound Card to Diet-Pi to HDMI > OK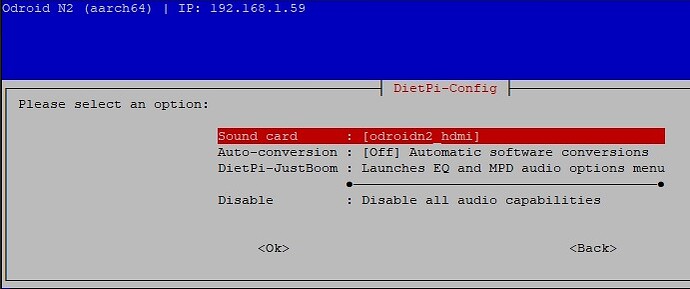 Go to KODI > Setting > System > Audio > Audio Output Device > Try to select HDMI > NOK
Expected behaviour
I would like to select HDMI in order to select Audio passthrough in KODI setting
Actual behaviour
I can select ODROID Analog only
Extra details
I tried to install PulseAudio to select this one in Audio Output Device.
I have'nt new option in KODI / Audio Output Device
When I want to run the command "pavucontrol", I've this error message:
*(pavucontrol:2183): Gtk-WARNING **: 21:04:43.508: cannot open display:*

I reboot many times.
The setting "Sync_playback_to_display" is disable in KODI setting.
aplay -l
**** List of PLAYBACK Hardware Devices ****
card 0: ODROIDN2 [ODROID-N2], device 0: fe.dai-link-0 (*) []
  Subdevices: 1/1
  Subdevice #0: subdevice #0
card 0: ODROIDN2 [ODROID-N2], device 1: fe.dai-link-1 (*) []
  Subdevices: 1/1
  Subdevice #0: subdevice #0
card 0: ODROIDN2 [ODROID-N2], device 2: fe.dai-link-2 (*) []
  Subdevices: 1/1
  Subdevice #0: subdevice #0

dmesg
[    0.000000] Booting Linux on physical CPU 0x0000000000 [0x410fd034]
[    0.000000] Linux version 6.1.50-current-meson64 (armbian@next) (aarch64-linu                               x-gnu-gcc (Ubuntu 11.4.0-1ubuntu1~22.04) 11.4.0, GNU ld (GNU Binutils for Ubuntu                               ) 2.38) #2 SMP PREEMPT Wed Aug 30 14:11:13 UTC 2023
[    0.000000] Machine model: Hardkernel ODROID-N2Plus
[    0.000000] efi: UEFI not found.
[    0.000000] Reserved memory: created CMA memory pool at 0x00000000e4800000, s                               ize 256 MiB
[    0.000000] OF: reserved mem: initialized node linux,cma, compatible id share                               d-dma-pool
[    0.000000] NUMA: No NUMA configuration found
[    0.000000] NUMA: Faking a node at [mem 0x0000000000000000-0x00000000f4806fff                               ]
[    0.000000] NUMA: NODE_DATA [mem 0xe3ffda80-0xe3ffffff]
[    0.000000] Zone ranges:
[    0.000000]   DMA      [mem 0x0000000000000000-0x00000000f4806fff]
[    0.000000]   DMA32    empty
[    0.000000]   Normal   empty
[    0.000000] Movable zone start for each node
[    0.000000] Early memory node ranges
[    0.000000]   node   0: [mem 0x0000000000000000-0x0000000004ffffff]
[    0.000000]   node   0: [mem 0x0000000005000000-0x00000000072fffff]
[    0.000000]   node   0: [mem 0x0000000007300000-0x00000000f4806fff]
[    0.000000] Initmem setup node 0 [mem 0x0000000000000000-0x00000000f4806fff]
[    0.000000] On node 0, zone DMA: 14329 pages in unavailable ranges
[    0.000000] psci: probing for conduit method from DT.
[    0.000000] psci: PSCIv1.0 detected in firmware.
[    0.000000] psci: Using standard PSCI v0.2 function IDs
[    0.000000] psci: MIGRATE_INFO_TYPE not supported.
[    0.000000] psci: SMC Calling Convention v1.1
[    0.000000] percpu: Embedded 21 pages/cpu s45864 r8192 d31960 u86016
[    0.000000] pcpu-alloc: s45864 r8192 d31960 u86016 alloc=21*4096
[    0.000000] pcpu-alloc: [0] 0 [0] 1 [0] 2 [0] 3 [0] 4 [0] 5
[    0.000000] Detected VIPT I-cache on CPU0
[    0.000000] CPU features: detected: ARM erratum 845719
[    0.000000] alternatives: applying boot alternatives
[    0.000000] Fallback order for Node 0: 0
[    0.000000] Built 1 zonelists, mobility grouping on.  Total pages: 985830
[    0.000000] Policy zone: DMA
[    0.000000] Kernel command line: root=UUID=9c0e54d7-498a-4004-8d56-1f258bdb8f                               cd rootfstype=ext4 rootwait console=ttyAML0,115200 console=tty1 consoleblank=0 c                               oherent_pool=2M usb-storage.quirks= net.ifnames=0
[    0.000000] Dentry cache hash table entries: 524288 (order: 10, 4194304 bytes                               , linear)
[    0.000000] Inode-cache hash table entries: 262144 (order: 9, 2097152 bytes,                                linear)
[    0.000000] mem auto-init: stack:off, heap alloc:on, heap free:off
[    0.000000] Memory: 3588968K/4005916K available (15808K kernel code, 1696K rw                               data, 5820K rodata, 3264K init, 588K bss, 154804K reserved, 262144K cma-reserved                               )
[    0.000000] SLUB: HWalign=64, Order=0-3, MinObjects=0, CPUs=6, Nodes=1
[    0.000000] rcu: Preemptible hierarchical RCU implementation.
[    0.000000] rcu:     RCU event tracing is enabled.
[    0.000000] rcu:     RCU restricting CPUs from NR_CPUS=256 to nr_cpu_ids=6.
[    0.000000]  Trampoline variant of Tasks RCU enabled.
[    0.000000]  Tracing variant of Tasks RCU enabled.
[    0.000000] rcu: RCU calculated value of scheduler-enlistment delay is 25 jif                               fies.
[    0.000000] rcu: Adjusting geometry for rcu_fanout_leaf=16, nr_cpu_ids=6
[    0.000000] NR_IRQS: 64, nr_irqs: 64, preallocated irqs: 0
[    0.000000] Root IRQ handler: gic_handle_irq
[    0.000000] GIC: Using split EOI/Deactivate mode
[    0.000000] rcu: srcu_init: Setting srcu_struct sizes based on contention.
[    0.000000] arch_timer: cp15 timer(s) running at 24.00MHz (phys).
[    0.000000] clocksource: arch_sys_counter: mask: 0xffffffffffffff max_cycles:                                0x588fe9dc0, max_idle_ns: 440795202592 ns
[    0.000000] sched_clock: 56 bits at 24MHz, resolution 41ns, wraps every 43980                               46511097ns
[    0.000220] Console: colour dummy device 80x25
[    0.000613] printk: console [tty1] enabled
[    0.000702] Calibrating delay loop (skipped), value calculated using timer fr                               equency.. 48.00 BogoMIPS (lpj=96000)
[    0.000726] pid_max: default: 32768 minimum: 301
[    0.000794] LSM: Security Framework initializing
[    0.000825] Yama: becoming mindful.
[    0.000924] AppArmor: AppArmor initialized
[    0.000959] Stack Depot allocating hash table of 262144 entries with kvcalloc
[    0.001438] Mount-cache hash table entries: 8192 (order: 4, 65536 bytes, line                               ar)
[    0.001471] Mountpoint-cache hash table entries: 8192 (order: 4, 65536 bytes,                                linear)
[    0.003525] cblist_init_generic: Setting adjustable number of callback queues                               .
[    0.003558] cblist_init_generic: Setting shift to 3 and lim to 1.
[    0.003642] cblist_init_generic: Setting adjustable number of callback queues                               .
[    0.003658] cblist_init_generic: Setting shift to 3 and lim to 1.
[    0.003891] rcu: Hierarchical SRCU implementation.
[    0.003905] rcu:     Max phase no-delay instances is 1000.
[    0.006538] EFI services will not be available.
[    0.007015] smp: Bringing up secondary CPUs ...
[    0.007736] Detected VIPT I-cache on CPU1
[    0.007876] CPU1: Booted secondary processor 0x0000000001 [0x410fd034]
[    0.009135] CPU features: detected: Spectre-v2
[    0.009147] CPU features: detected: Spectre-v4
[    0.009151] CPU features: detected: Spectre-BHB
[    0.009156] CPU features: detected: ARM erratum 858921
[    0.009162] Detected VIPT I-cache on CPU2
[    0.009255] arch_timer: Enabling local workaround for ARM erratum 858921
[    0.009271] arch_timer: CPU2: Trapping CNTVCT access
[    0.009281] CPU2: Booted secondary processor 0x0000000100 [0x410fd092]
[    0.009978] Detected VIPT I-cache on CPU3
[    0.010038] arch_timer: Enabling local workaround for ARM erratum 858921
[    0.010046] arch_timer: CPU3: Trapping CNTVCT access
[    0.010052] CPU3: Booted secondary processor 0x0000000101 [0x410fd092]
[    0.010712] Detected VIPT I-cache on CPU4
[    0.010774] arch_timer: Enabling local workaround for ARM erratum 858921
[    0.010782] arch_timer: CPU4: Trapping CNTVCT access
[    0.010788] CPU4: Booted secondary processor 0x0000000102 [0x410fd092]
[    0.011438] Detected VIPT I-cache on CPU5
[    0.011501] arch_timer: Enabling local workaround for ARM erratum 858921
[    0.011509] arch_timer: CPU5: Trapping CNTVCT access
[    0.011515] CPU5: Booted secondary processor 0x0000000103 [0x410fd092]
[    0.011586] smp: Brought up 1 node, 6 CPUs
[    0.011798] SMP: Total of 6 processors activated.
[    0.011812] CPU features: detected: 32-bit EL0 Support
[    0.011822] CPU features: detected: 32-bit EL1 Support
[    0.011835] CPU features: detected: CRC32 instructions
[    0.011938] CPU: All CPU(s) started at EL2
[    0.011957] alternatives: applying system-wide alternatives
[    0.014317] devtmpfs: initialized
[    0.021223] Registered cp15_barrier emulation handler
[    0.021254] Registered setend emulation handler
[    0.021415] clocksource: jiffies: mask: 0xffffffff max_cycles: 0xffffffff, ma                               x_idle_ns: 7645041785100000 ns
[    0.021463] futex hash table entries: 2048 (order: 5, 131072 bytes, linear)
[    0.025588] pinctrl core: initialized pinctrl subsystem
[    0.026011] DMI not present or invalid.
[    0.026487] NET: Registered PF_NETLINK/PF_ROUTE protocol family
[    0.028224] DMA: preallocated 2048 KiB GFP_KERNEL pool for atomic allocations
[    0.029468] DMA: preallocated 2048 KiB GFP_KERNEL|GFP_DMA pool for atomic all                               ocations
[    0.030592] DMA: preallocated 2048 KiB GFP_KERNEL|GFP_DMA32 pool for atomic a                               llocations
[    0.030630] audit: initializing netlink subsys (disabled)
[    0.030773] audit: type=2000 audit(0.028:1): state=initialized audit_enabled=                               0 res=1
[    0.031061] thermal_sys: Registered thermal governor 'fair_share'
[    0.031066] thermal_sys: Registered thermal governor 'bang_bang'
[    0.031078] thermal_sys: Registered thermal governor 'step_wise'
[    0.031086] thermal_sys: Registered thermal governor 'user_space'
[    0.031118] cpuidle: using governor menu
[    0.031302] hw-breakpoint: found 6 breakpoint and 4 watchpoint registers.
[    0.031409] ASID allocator initialised with 65536 entries
[    0.032248] Serial: AMBA PL011 UART driver
[    0.038583] platform ff600000.hdmi-tx: Fixed dependency cycle(s) with /soc/vp                               u@ff900000
[    0.048225] platform ff600000.hdmi-tx: Fixed dependency cycle(s) with /hdmi-c                               onnector
[    0.054081] HugeTLB: registered 1.00 GiB page size, pre-allocated 0 pages
[    0.054101] HugeTLB: 0 KiB vmemmap can be freed for a 1.00 GiB page
[    0.054120] HugeTLB: registered 32.0 MiB page size, pre-allocated 0 pages
[    0.054130] HugeTLB: 0 KiB vmemmap can be freed for a 32.0 MiB page
[    0.054139] HugeTLB: registered 2.00 MiB page size, pre-allocated 0 pages
[    0.054147] HugeTLB: 0 KiB vmemmap can be freed for a 2.00 MiB page
[    0.054156] HugeTLB: registered 64.0 KiB page size, pre-allocated 0 pages
[    0.054164] HugeTLB: 0 KiB vmemmap can be freed for a 64.0 KiB page
[    0.054734] cryptd: max_cpu_qlen set to 1000
[    0.119888] raid6: neonx8   gen()  2785 MB/s
[    0.187959] raid6: neonx4   gen()  2979 MB/s
[    0.256030] raid6: neonx2   gen()  2586 MB/s
[    0.324098] raid6: neonx1   gen()  1980 MB/s
[    0.392170] raid6: int64x8  gen()  1316 MB/s
[    0.460211] raid6: int64x4  gen()  1438 MB/s
[    0.528274] raid6: int64x2  gen()  1341 MB/s
[    0.596346] raid6: int64x1  gen()  1098 MB/s
[    0.596354] raid6: using algorithm neonx4 gen() 2979 MB/s
[    0.664388] raid6: .... xor() 2306 MB/s, rmw enabled
[    0.664397] raid6: using neon recovery algorithm
[    0.664757] ACPI: Interpreter disabled.
[    0.665459] iommu: Default domain type: Translated
[    0.665472] iommu: DMA domain TLB invalidation policy: strict mode
[    0.665962] SCSI subsystem initialized
[    0.666109] usbcore: registered new interface driver usbfs
[    0.666142] usbcore: registered new interface driver hub
[    0.666168] usbcore: registered new device driver usb
[    0.666334] pps_core: LinuxPPS API ver. 1 registered
[    0.666344] pps_core: Software ver. 5.3.6 - Copyright 2005-2007 Rodolfo Giome                               tti <giometti@linux.it>
[    0.666362] PTP clock support registered
[    0.666470] EDAC MC: Ver: 3.0.0
[    0.667560] NetLabel: Initializing
[    0.667575] NetLabel:  domain hash size = 128
[    0.667583] NetLabel:  protocols = UNLABELED CIPSOv4 CALIPSO
[    0.667625] NetLabel:  unlabeled traffic allowed by default
[    0.667633] mctp: management component transport protocol core
[    0.667642] NET: Registered PF_MCTP protocol family
[    0.667772] vgaarb: loaded
[    0.668065] clocksource: Switched to clocksource arch_sys_counter
[    0.668255] VFS: Disk quotas dquot_6.6.0
[    0.668294] VFS: Dquot-cache hash table entries: 512 (order 0, 4096 bytes)
[    0.668654] AppArmor: AppArmor Filesystem Enabled
[    0.668698] pnp: PnP ACPI: disabled
[    0.674057] NET: Registered PF_INET protocol family
[    0.674261] IP idents hash table entries: 65536 (order: 7, 524288 bytes, line                               ar)
[    0.677164] tcp_listen_portaddr_hash hash table entries: 2048 (order: 3, 3276                               8 bytes, linear)
[    0.677254] Table-perturb hash table entries: 65536 (order: 6, 262144 bytes,                                linear)
[    0.677323] TCP established hash table entries: 32768 (order: 6, 262144 bytes                               , linear)
[    0.677676] TCP bind hash table entries: 32768 (order: 8, 1048576 bytes, line                               ar)
[    0.678016] TCP: Hash tables configured (established 32768 bind 32768)
[    0.678225] MPTCP token hash table entries: 4096 (order: 4, 98304 bytes, line                               ar)
[    0.678319] UDP hash table entries: 2048 (order: 4, 65536 bytes, linear)
[    0.678377] UDP-Lite hash table entries: 2048 (order: 4, 65536 bytes, linear)
[    0.678538] NET: Registered PF_UNIX/PF_LOCAL protocol family
[    0.678572] PCI: CLS 0 bytes, default 64
[    0.678791] Trying to unpack rootfs image as initramfs...
[    0.688820] kvm [1]: IPA Size Limit: 40 bits
[    0.689664] kvm [1]: vgic interrupt IRQ9
[    0.689785] kvm [1]: Hyp mode initialized successfully
[    0.691104] Initialise system trusted keyrings
[    0.691155] Key type blacklist registered
[    0.691381] workingset: timestamp_bits=44 max_order=20 bucket_order=0
[    0.694673] zbud: loaded
[    0.695629] squashfs: version 4.0 (2009/01/31) Phillip Lougher
[    0.696190] fuse: init (API version 7.37)
[    0.697556] integrity: Platform Keyring initialized
[    0.725397] xor: measuring software checksum speed
[    0.727782]    8regs           :  4145 MB/sec
[    0.730095]    32regs          :  4288 MB/sec
[    0.732816]    arm64_neon      :  3633 MB/sec
[    0.732824] xor: using function: 32regs (4288 MB/sec)
[    0.732838] Key type asymmetric registered
[    0.732847] Asymmetric key parser 'x509' registered
[    1.179850] Freeing initrd memory: 13176K
[    1.193253] alg: self-tests for CTR-KDF (hmac(sha256)) passed
[    1.193358] Block layer SCSI generic (bsg) driver version 0.4 loaded (major 2                               44)
[    1.193484] io scheduler mq-deadline registered
[    1.193498] io scheduler kyber registered
[    1.193636] io scheduler bfq registered
[    1.194523] irq_meson_gpio: 100 to 8 gpio interrupt mux initialized
[    1.197730] gpio-447 (usb-hub-reset): hogged as output/high
[    1.200935] EINJ: ACPI disabled.
[    1.207208] soc soc0: Amlogic Meson G12B (S922X) Revision 29:c (40:2) Detecte                               d
[    1.209046] Serial: 8250/16550 driver, 8 ports, IRQ sharing disabled
[    1.211532] Serial: AMBA driver
[    1.211891] ff803000.serial: ttyAML0 at MMIO 0xff803000 (irq = 14, base_baud                                = 1500000) is a meson_uart
[    2.377268] printk: console [ttyAML0] enabled
[    2.386892] loop: module loaded
[    2.390265] tun: Universal TUN/TAP device driver, 1.6
[    2.390966] thunder_xcv, ver 1.0
[    2.392981] thunder_bgx, ver 1.0
[    2.396177] nicpf, ver 1.0
[    2.399237] e1000e: Intel(R) PRO/1000 Network Driver
[    2.403775] e1000e: Copyright(c) 1999 - 2015 Intel Corporation.
[    2.409705] igb: Intel(R) Gigabit Ethernet Network Driver
[    2.415041] igb: Copyright (c) 2007-2014 Intel Corporation.
[    2.420613] igbvf: Intel(R) Gigabit Virtual Function Network Driver
[    2.426827] igbvf: Copyright (c) 2009 - 2012 Intel Corporation.
[    2.432831] sky2: driver version 1.30
[    2.436726] VFIO - User Level meta-driver version: 0.3
[    2.443285] usbcore: registered new interface driver usb-storage
[    2.448759] mousedev: PS/2 mouse device common for all mice
[    2.453528] i2c_dev: i2c /dev entries driver
[    2.463484] cpufreq: cpufreq_online: CPU2: Running at unlisted initial freque                               ncy: 999999 KHz, changing to: 1000000 KHz
[    2.469932] sdhci: Secure Digital Host Controller Interface driver
[    2.474719] sdhci: Copyright(c) Pierre Ossman
[    2.479139] Synopsys Designware Multimedia Card Interface Driver
[    2.485340] sdhci-pltfm: SDHCI platform and OF driver helper
[    2.491248] ledtrig-cpu: registered to indicate activity on CPUs
[    2.496829] meson-sm: secure-monitor enabled
[    2.501069] hid: raw HID events driver (C) Jiri Kosina
[    2.506051] usbcore: registered new interface driver usbhid
[    2.511541] usbhid: USB HID core driver
[    2.515938] NET: Registered PF_INET6 protocol family
[    2.520706] Segment Routing with IPv6
[    2.523945] In-situ OAM (IOAM) with IPv6
[    2.527864] NET: Registered PF_PACKET protocol family
[    2.532898] 8021q: 802.1Q VLAN Support v1.8
[    2.537048] Key type dns_resolver registered
[    2.541673] registered taskstats version 1
[    2.545354] Loading compiled-in X.509 certificates
[    2.551776] zswap: loaded using pool zstd/z3fold
[    2.554912] Key type .fscrypt registered
[    2.558605] Key type fscrypt-provisioning registered
[    2.564508] Btrfs loaded, crc32c=crc32c-generic, zoned=yes, fsverity=yes
[    2.570414] Key type encrypted registered
[    2.574211] AppArmor: AppArmor sha1 policy hashing enabled
[    2.591372] meson-drm ff900000.vpu: Queued 1 outputs on vpu
[    2.591884] meson-drm ff900000.vpu: CVBS Output connector not available
[    2.624092] meson-dw-hdmi ff600000.hdmi-tx: Detected HDMI TX controller v2.01                               a with HDCP (meson_dw_hdmi_phy)
[    2.628525] meson-dw-hdmi ff600000.hdmi-tx: registered DesignWare HDMI I2C bu                               s driver
[    2.636201] meson-drm ff900000.vpu: bound ff600000.hdmi-tx (ops meson_dw_hdmi                               _ops)
[    2.643814] [drm] Initialized meson 1.0.0 20161109 for ff900000.vpu on minor                                0
[    3.265471] Console: switching to colour frame buffer device 240x67
[    3.286089] meson-drm ff900000.vpu: [drm] fb0: mesondrmfb frame buffer device
[    3.294146] dwc3-meson-g12a ffe09000.usb: USB2 ports: 2
[    3.298413] dwc3-meson-g12a ffe09000.usb: USB3 ports: 1
[    3.306238] dwc2 ff400000.usb: supply vusb_d not found, using dummy regulator
[    3.310753] dwc2 ff400000.usb: supply vusb_a not found, using dummy regulator
[    3.317936] dwc2 ff400000.usb: EPs: 7, dedicated fifos, 712 entries in SPRAM
[    3.325361] xhci-hcd xhci-hcd.1.auto: xHCI Host Controller
[    3.330311] xhci-hcd xhci-hcd.1.auto: new USB bus registered, assigned bus nu                               mber 1
[    3.337998] xhci-hcd xhci-hcd.1.auto: hcc params 0x0228fe6c hci version 0x110                                quirks 0x0000000000010010
[    3.347304] xhci-hcd xhci-hcd.1.auto: irq 19, io mem 0xff500000
[    3.353232] xhci-hcd xhci-hcd.1.auto: xHCI Host Controller
[    3.358639] xhci-hcd xhci-hcd.1.auto: new USB bus registered, assigned bus nu                               mber 2
[    3.366264] xhci-hcd xhci-hcd.1.auto: Host supports USB 3.0 SuperSpeed
[    3.372807] usb usb1: New USB device found, idVendor=1d6b, idProduct=0002, bc                               dDevice= 6.01
[    3.381000] usb usb1: New USB device strings: Mfr=3, Product=2, SerialNumber=                               1
[    3.388191] usb usb1: Product: xHCI Host Controller
[    3.393041] usb usb1: Manufacturer: Linux 6.1.50-current-meson64 xhci-hcd
[    3.399806] usb usb1: SerialNumber: xhci-hcd.1.auto
[    3.404844] hub 1-0:1.0: USB hub found
[    3.408390] hub 1-0:1.0: 2 ports detected
[    3.412495] usb usb2: We don't know the algorithms for LPM for this host, dis                               abling LPM.
[    3.420451] usb usb2: New USB device found, idVendor=1d6b, idProduct=0003, bc                               dDevice= 6.01
[    3.428659] usb usb2: New USB device strings: Mfr=3, Product=2, SerialNumber=                               1
[    3.435849] usb usb2: Product: xHCI Host Controller
[    3.440704] usb usb2: Manufacturer: Linux 6.1.50-current-meson64 xhci-hcd
[    3.447463] usb usb2: SerialNumber: xhci-hcd.1.auto
[    3.452453] hub 2-0:1.0: USB hub found
[    3.456049] hub 2-0:1.0: 1 port detected
[    3.460235] dwc3-meson-g12a ffe09000.usb: switching to Device Mode
[    3.466808] meson-gx-mmc ffe05000.sd: Got CD GPIO
[    3.467491] meson-gx-mmc ffe07000.mmc: allocated mmc-pwrseq
[    3.500075] gpio irq setup: hwirq: 0x3B irqfirst: 0x35 irqlast: 0x3C pin[47]
[    3.501682] genirq: Setting trigger mode 3 for irq 23 failed (meson_gpio_irq_                               set_type+0x0/0x60)
[    3.511411] Freeing unused kernel memory: 3264K
[    3.544095] Run /init as init process
[    3.544122]   with arguments:
[    3.544126]     /init
[    3.544128]   with environment:
[    3.544129]     HOME=/
[    3.544131]     TERM=linux
[    3.549460] mmc0: new high speed SDXC card at address 5048
[    3.550048] mmcblk0: mmc0:5048 SD64G 58.0 GiB
[    3.555881]  mmcblk0: p1
[    3.673002] usb 1-1: new high-speed USB device number 2 using xhci-hcd
[    3.680684] meson8b-dwmac ff3f0000.ethernet: IRQ eth_wake_irq not found
[    3.682732] meson8b-dwmac ff3f0000.ethernet: IRQ eth_lpi not found
[    3.691402] meson8b-dwmac ff3f0000.ethernet: PTP uses main clock
[    3.695422] meson8b-dwmac ff3f0000.ethernet: User ID: 0x11, Synopsys ID: 0x37
[    3.701991] meson8b-dwmac ff3f0000.ethernet:         DWMAC1000
[    3.707264] meson8b-dwmac ff3f0000.ethernet: DMA HW capability register suppo                               rted
[    3.714645] meson8b-dwmac ff3f0000.ethernet: RX Checksum Offload Engine suppo                               rted
[    3.722136] meson8b-dwmac ff3f0000.ethernet: COE Type 2
[    3.727295] meson8b-dwmac ff3f0000.ethernet: TX Checksum insertion supported
[    3.734309] meson8b-dwmac ff3f0000.ethernet: Wake-Up On Lan supported
[    3.742620] meson8b-dwmac ff3f0000.ethernet: Normal descriptors
[    3.743672] meson-vrtc ff8000a8.rtc: registered as rtc1
[    3.745350] meson8b-dwmac ff3f0000.ethernet: Ring mode enabled
[    3.758903] meson8b-dwmac ff3f0000.ethernet: Enable RX Mitigation via HW Watc                               hdog Timer
[    3.761106] rtc-pcf8563 0-0051: registered as rtc0
[    3.772785] rtc-pcf8563 0-0051: setting system clock to 2023-11-03T20:58:46 U                               TC (1699045126)
[    3.830409] usb 1-1: New USB device found, idVendor=05e3, idProduct=0610, bcd                               Device=93.04
[    3.833822] usb 1-1: New USB device strings: Mfr=1, Product=2, SerialNumber=0
[    3.840922] usb 1-1: Product: USB2.1 Hub
[    3.844820] usb 1-1: Manufacturer: GenesysLogic
[    3.885008] hub 1-1:1.0: USB hub found
[    3.886069] hub 1-1:1.0: 4 ports detected
[    3.956191] usb 2-1: new SuperSpeed USB device number 2 using xhci-hcd
[    3.978758] usb 2-1: New USB device found, idVendor=05e3, idProduct=0620, bcd                               Device=93.04
[    3.983639] usb 2-1: New USB device strings: Mfr=1, Product=2, SerialNumber=0
[    3.990749] usb 2-1: Product: USB3.1 Hub
[    3.994640] usb 2-1: Manufacturer: GenesysLogic
[    4.029041] hub 2-1:1.0: USB hub found
[    4.031631] hub 2-1:1.0: 4 ports detected
[    4.137034] EXT4-fs (mmcblk0p1): mounted filesystem with ordered data mode. Q                               uota mode: none.
[    4.878873] systemd[1]: Inserted module 'autofs4'
[    4.947320] systemd[1]: systemd 252.17-1~deb12u1 running in system mode (+PAM                                +AUDIT +SELINUX +APPARMOR +IMA +SMACK +SECCOMP +GCRYPT -GNUTLS +OPENSSL +ACL +B                               LKID +CURL +ELFUTILS +FIDO2 +IDN2 -IDN +IPTC +KMOD +LIBCRYPTSETUP +LIBFDISK +PCR                               E2 -PWQUALITY +P11KIT +QRENCODE +TPM2 +BZIP2 +LZ4 +XZ +ZLIB +ZSTD -BPF_FRAMEWORK                                -XKBCOMMON +UTMP +SYSVINIT default-hierarchy=unified)
[    4.976165] systemd[1]: Detected architecture arm64.
[    4.998372] systemd[1]: Hostname set to <DietPi>.
[    5.377141] systemd[1]: Queued start job for default target graphical.target.
[    5.401343] systemd[1]: Created slice system-getty.slice - Slice /system/gett                               y.
[    5.405612] systemd[1]: Created slice system-modprobe.slice - Slice /system/m                               odprobe.
[    5.413277] systemd[1]: Created slice system-serial\x2dgetty.slice - Slice /s                               ystem/serial-getty.
[    5.421696] systemd[1]: Started systemd-ask-password-console.path - Dispatch                                Password Requests to Console Directory Watch.
[    5.432633] systemd[1]: Started systemd-ask-password-wall.path - Forward Pass                               word Requests to Wall Directory Watch.
[    5.443217] systemd[1]: Set up automount proc-sys-fs-binfmt_misc.automount -                                Arbitrary Executable File Formats File System Automount Point.
[    5.455547] systemd[1]: Reached target cryptsetup.target - Local Encrypted Vo                               lumes.
[    5.463134] systemd[1]: Reached target integritysetup.target - Local Integrit                               y Protected Volumes.
[    5.472039] systemd[1]: Reached target paths.target - Path Units.
[    5.478056] systemd[1]: Reached target slices.target - Slice Units.
[    5.484295] systemd[1]: Reached target swap.target - Swaps.
[    5.489891] systemd[1]: Reached target veritysetup.target - Local Verity Prot                               ected Volumes.
[    5.516332] systemd[1]: Listening on rpcbind.socket - RPCbind Server Activati                               on Socket.
[    5.521482] systemd[1]: Listening on systemd-fsckd.socket - fsck to fsckd com                               munication Socket.
[    5.529899] systemd[1]: Listening on systemd-initctl.socket - initctl Compati                               bility Named Pipe.
[    5.538938] systemd[1]: Listening on systemd-journald-audit.socket - Journal                                Audit Socket.
[    5.546917] systemd[1]: Listening on systemd-journald-dev-log.socket - Journa                               l Socket (/dev/log).
[    5.555739] systemd[1]: Listening on systemd-journald.socket - Journal Socket                               .
[    5.562986] systemd[1]: Listening on systemd-udevd-control.socket - udev Cont                               rol Socket.
[    5.570968] systemd[1]: Listening on systemd-udevd-kernel.socket - udev Kerne                               l Socket.
[    5.596221] systemd[1]: Mounting dev-hugepages.mount - Huge Pages File System                               ...
[    5.602300] systemd[1]: Mounting dev-mqueue.mount - POSIX Message Queue File                                System...
[    5.610179] systemd[1]: Mounting sys-kernel-debug.mount - Kernel Debug File S                               ystem...
[    5.616617] systemd[1]: sys-kernel-tracing.mount - Kernel Trace File System w                               as skipped because of an unmet condition check (ConditionPathExists=/sys/kernel/                               tracing).
[    5.629975] systemd[1]: auth-rpcgss-module.service - Kernel Module supporting                                RPCSEC_GSS was skipped because of an unmet condition check (ConditionPathExists                               =/etc/krb5.keytab).
[    5.648418] systemd[1]: Starting fake-hwclock.service - Restore / save the cu                               rrent clock...
[    5.657135] systemd[1]: Starting keyboard-setup.service - Set the console key                               board layout...
[    5.665798] systemd[1]: Starting kmod-static-nodes.service - Create List of S                               tatic Device Nodes...
[    5.674552] systemd[1]: Starting modprobe@configfs.service - Load Kernel Modu                               le configfs...
[    5.682933] systemd[1]: Starting modprobe@dm_mod.service - Load Kernel Module                                dm_mod...
[    5.690703] systemd[1]: Starting modprobe@efi_pstore.service - Load Kernel Mo                               dule efi_pstore...
[    5.699615] systemd[1]: Starting modprobe@fuse.service - Load Kernel Module f                               use...
[    5.707043] systemd[1]: Starting modprobe@loop.service - Load Kernel Module l                               oop...
[    5.712960] systemd[1]: systemd-fsck-root.service - File System Check on Root                                Device was skipped because of an unmet condition check (ConditionPathExists=!/r                               un/initramfs/fsck-root).
[    5.730398] systemd[1]: Starting systemd-journald.service - Journal Service..                               .
[    5.736571] device-mapper: uevent: version 1.0.3
[    5.740966] device-mapper: ioctl: 4.47.0-ioctl (2022-07-28) initialised: dm-d                               evel@redhat.com
[    5.752114] systemd[1]: Starting systemd-modules-load.service - Load Kernel M                               odules...
[    5.759920] systemd[1]: Starting systemd-remount-fs.service - Remount Root an                               d Kernel File Systems...
[    5.768771] systemd[1]: Starting systemd-udev-trigger.service - Coldplug All                                udev Devices...
[    5.778821] systemd[1]: Mounted dev-hugepages.mount - Huge Pages File System.
[    5.783986] systemd[1]: Mounted dev-mqueue.mount - POSIX Message Queue File S                               ystem.
[    5.791565] systemd[1]: Mounted sys-kernel-debug.mount - Kernel Debug File Sy                               stem.
[    5.799352] systemd[1]: Finished fake-hwclock.service - Restore / save the cu                               rrent clock.
[    5.802128] EXT4-fs (mmcblk0p1): re-mounted. Quota mode: none.
[    5.814186] systemd[1]: Started systemd-journald.service - Journal Service.
[    6.063125] systemd-journald[845]: Received client request to flush runtime j                               ournal.
[    6.329848] gpio-fan gpio-fan: GPIO fan initialized
[    6.362980] mc: Linux media interface: v0.10
[    6.422754] videodev: Linux video capture interface: v2.00
[    6.558772] panfrost ffe40000.gpu: clock rate = 24000000
[    6.558826] panfrost ffe40000.gpu: error -ENODEV: _opp_set_regulators: no reg                               ulator (mali) found