Hi! Thank you a ton for DietPi. It's a wonderful piece of software! I'm having some troubles configuring it though.
I'm trying to use NanoPi R5S as a smart network switch using its 3 Ethernet ports. I was able to successfully do that on the previous OS installed on it – an OpenWRT derivative. The relevant part of /etc/config/network file looked like this:
config interface 'lan'
	option ipv6 'off'
	option device 'switch0'
	option proto 'dhcp'

config device
	option type 'bridge'
	option name 'switch0'
	list ports 'eth0'
	list ports 'eth1'
	list ports 'eth2'
	option ipv6 '0'
	option mtu '1500'
	option macaddr '86:5E:CE:F4:81:18'

So I want to link eth0, eth1 and eth2 all into a single bridge. I tried replicating this on DietPi:
/etc/network/interfaces:
auto br0
iface br0 inet dhcp
        bridge_ports eth0 eth1 eth2
        hwaddress 86:5e:ce:f4:81:18

This partially works. I'm able to make connections to and from the DietPi host, but the traffic switching part doesn't seem to be working: From a laptop connected over a wire to the NanoPi, I'm able to ssh into DietPi, but I'm not able to reach either my network router, nor the public internet. Everything works if I bypass the wired connection by using WiFi of course.
My network topology looks like this:
OpenWRT router <=Ethernet-cable=> NanoPi <=Ethernet-cable=> laptop
The laptop is a Mac with this config: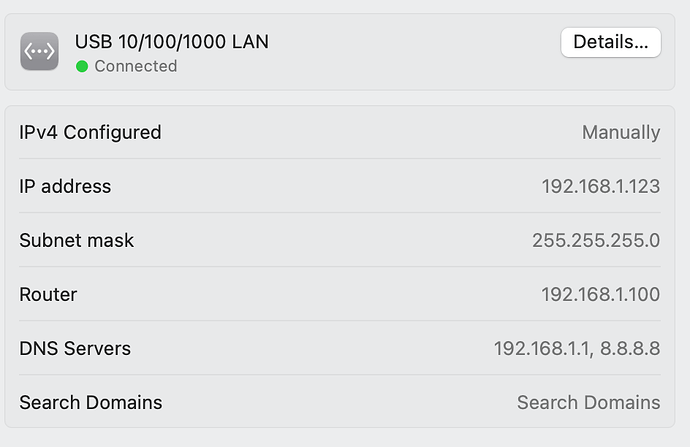 On the DHCP server, I configure DietPi to be assigned IP address 192.168.1.100.
Can anyone recommend what else can I check to make the laptop reach the public internet (I'm not sure if I'm supposed to have 1 or 2 subnets for instance)? Any help appreciated!