to be clear, it (appears to) boot up perfectly when the HDMI and keyboard are not plugged in. I can't tell for sure, but I can SSH in OK and docker is up and running home assistant etc etc.
It's a Kingston SSD and the Pi is powered by the official Argon One power supply as it is in an Argon ONE case.
Good news though, I remembered I had a Deco P9 connected to the router (my mesh WIFI) with a spare port so I have plugged my Pi into that and not into the router. …it just survived a router restart! I'm doing anther one just to be sure, hang on…
---
Edit: Yep, that's 2 router restarts that it has survived now.
…when I was setting it up, I had the HDMI plugged directly into the Pi (It's wasn't in it's Argon ONE case then). Now that it is in the case, I am plugged into the Argon ONE's HDMI port (which in turn is connected to the Pi). …could The Argon One case itself be a problem?
---
Edit: Forgot to add, the SSD is powered by the Pi. I have had the same setup (different case) with my Pi for years with no issues.
---
Edit: I brought a spare Pi with me (in the exact same case that my 'good' Pi is in). I shutdown the bad Pi, transferred the Sonoff stick, SDD and
network cable to the new Pi and started up with the HDMI and keyboard attached (that didn't work on the 'bad' Pi).
BOOM.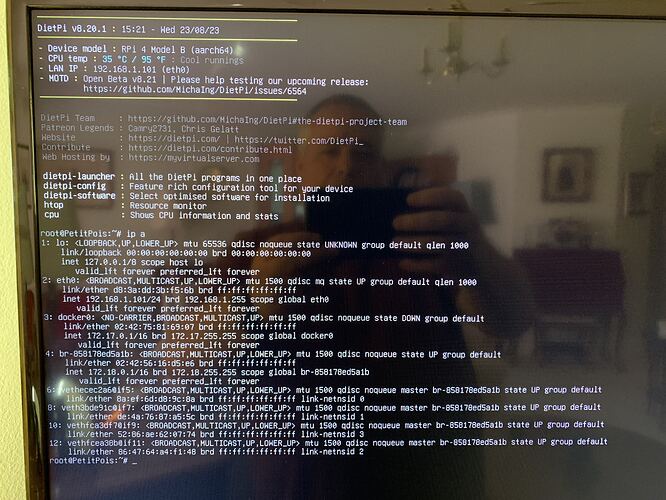 No drive errors, logged in OK and ip a shown. I am now going to reconnect directly to the router and restart. Will let you know…
---
EDIT:
OK, so it did not survive a restart whilst directly connected to the router, but I did get an ip a this time (the 1st was before the restart, the 2nd after). …it looks like the PI has kept it's IP, but maybe not too surprising as it is static?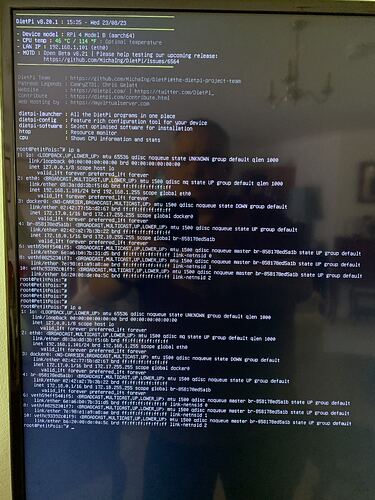 OK SUPER SUMMARY
'bad pi' will survive a router restart when connected via my Deco P9
my spare Pi had the same results as the 'bad Pi' re: restarts
the Argon ONE was preventing me using the HDMI and keyboard
my SSD is OK
cheers!
…apologies for the horrendous typos - now fixed.