I get the following error when trying to install squeezelite. On v152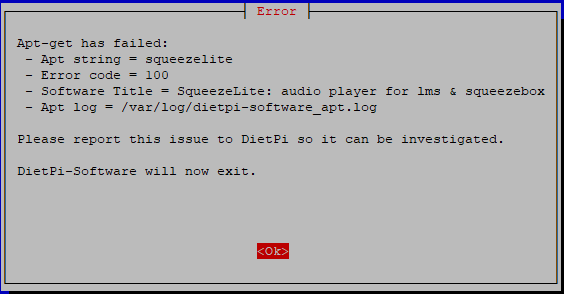 Hi, thanks for the report.
Unable to replicate on Odroid C2 (ARMv8). Can you tell me which SBC device this is running on?
Also, try running:
apt-get install -f

Then reinstall via dietpi-software
Its on a RPi3. Ran the apt-get install -f and retryed the squeezelite install via dietpi-software with the same failure.
Thanks.
Fine on RPi 3 aswell. Must be limited to your current installation/software combination.
We'll need to obtain the apt log if we are to try and debug this:
Please replicate the error
Paste the results of the following log into next post:
cat /var/log/dietpi-software_apt.log

Thanks, looks like cached list data for locales dpkg is up the fritz. Could be early indicator of filesystem corruption due to hardware failure (SD card)/insufficient PSU etc.
Lets clear the list file and reinstall locales:
rm /var/lib/dpkg/info/locales.list
apt-get install locales --reinstall

If that works, then try reinstalling squeezelite.