DietPi Tools¶
DietPi-Launcher¶
It provides an easy access to all DietPi OS tools, and it could be accessed by running next command: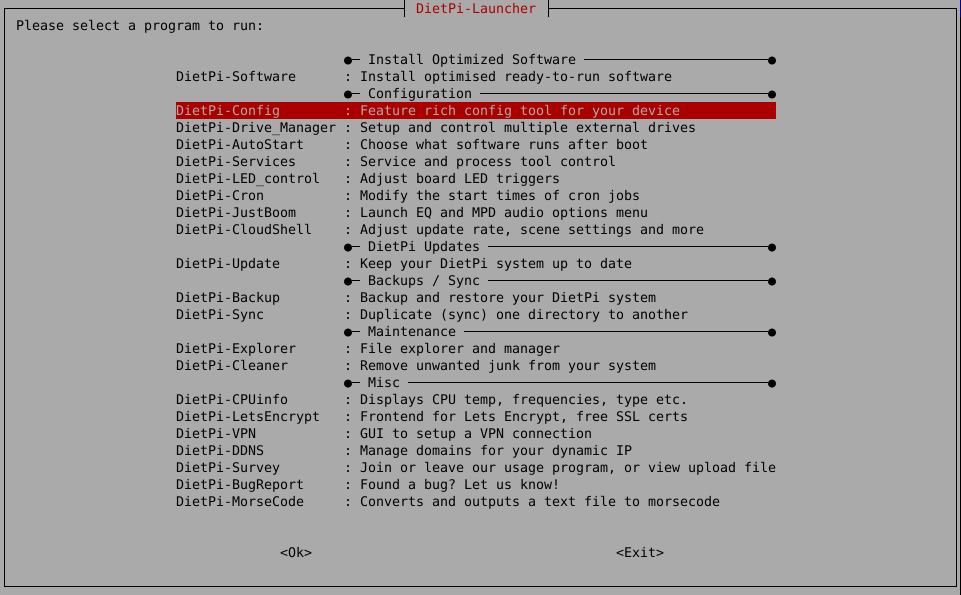 DietPi-Software¶
dietpi-software will be automatically displayed on the first login after the installation. It could be accessed at any time running next command:
It is one of the core tools, enabling you to install or uninstall one or more DietPi optimised software titles.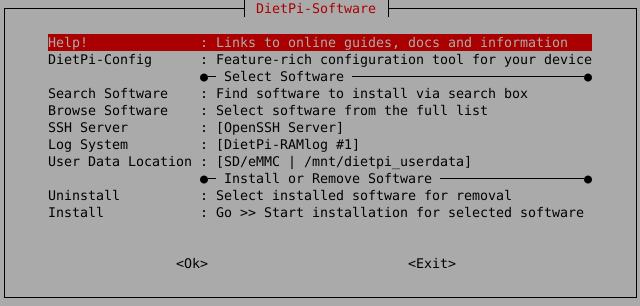 Begin by selecting Software Optimized in the main menu list and hit Enter.

Scroll through the list of available software - for more details check DietPi Optimised Software.
The list of optimised software is long. You either browse the list or use the option Search.
To install software on your DietPi, select it in the list and press the space bar to add it to the installation list. If you change your mind, hit space again to remove it.

Once you've selected the software you wish to install, press the tab key on your keyboard to switch to the confirmation options at the bottom. Select OK, then hit enter on your keyboard to confirm.

To begin installing your software, select Install from the main menu list, then hit the Enter key. DietPi will ask you to confirm your choice(s). Select OK, then hit enter to begin the installation.
The software you selected will begin to install at this point. Once the process is completed, you may be asked to restart your device. Press OK to confirm.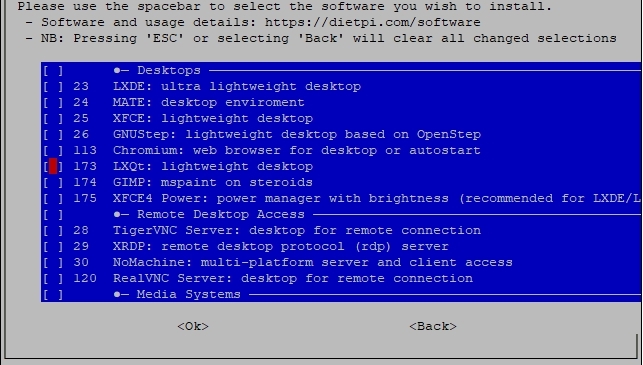 This section provides:
software packages that are often used and installed via apt install <package>, without additional optimisation from DietPi team.
or packages not directly required, but pulled as a dependency, like: build tools, libraries or runtime systems.
You can return to the DietPi-Software tool to make further changes at any time by typing dietpi-software at the terminal, or enter dietpi-launcher and select DietPi-Software tool.
Install
Install selected software item(s), and these could come both from optimised software list or additional software items.
Uninstall
Select one or more software items which you would like to be removed from your DietPi installation.
Configuration¶
dietpi-config

Configure various system settings, from display / audio / network to auto start options.

dietpi-drive_manager

Feature-rich drive management utility.

dietpi-autostart

Defines software packages to start when the DietPi OS boots up. Example, boot into the desktop with Kodi running.

dietpi-services

Provides service control, priority level tweaks and status print.

dietpi-led_control

dietpi-cron

Modify the start times of specific cron job groups.

dietpi-justboom

Change the audio settings

dietpi-sync

Sync or duplicate a directory to another
Update & Backup¶
dietpi-update

Update DietPi OS version to the latest version available.

dietpi-backup

Fully backups DietPi setup. It also includes the restore capability from an already made DietPi backup.
Let's Encrypt SSL & NordVPN support¶
dietpi-letsencrypt

Access the frontend for the Let's Encrypt integration.

dietpi-nordvpn
Miscellaneous¶
dietpi-cpuinfo

Displays CPU temperature, processor frequency, throttle level etc.

dietpi-survey

dietpi-bugreport

dietpi-morsecode

It converts a text file into morse code.
Maintenance¶
dietpi-explorer

Lightweight file manager and explorer

dietpi-cleaner

Clean up not necessary files from the operating system and free up valuable disk space.

dietpi-logclear

Clear log files in /var/log/.