Remote Desktop Access¶
Overview¶
Documentation in progress…
The Optimised Software links marked in bold have a more detailed description. The other links redirect to the old documentation (available on DietPi.com Forum)
Return to the full Optimised Software list.
How do I run DietPi-Software and install Optimised software ?

To install any of the DietPi Optimised Software listed below run from the command line: dietpi-launcher and selected DietPi-Software. or launch directly the tool: dietpi-software

Choose Software optimised and select one or more items. Finally click on Install. DietPi will do all the necessary steps to install and start these software items.

To see all the DietPi configurations options, review DietPi Tools section.
[29] TigerVNC Server - Desktop for remote connection¶
Info
From the list of Optimised Software, together with any of the Remote Desktop Software choose also one of Graphical Desktop environment. DietPi will install both of them, enabling you to use your keyboard and mouse to interact with a graphical desktop environment on your device.
Run a Desktop environment on your device and access it accessed remotely via network. It is a great option for headless SBC devices.
You can control the VNC service with: systemctl status vncserver.service
Connection Details:
Use the IP address of your DietPi device (e.g.: 192.168.0.100). If you can't connect, try connecting to screen 1 (e.g.: 192.168.0.100:1)
Use the password you entered during the installation. If you would like to change the password run from the console/terminal vncpasswd
The default port is 5901. Note: To enable access from outside of your local network, this port needs to be forwarded from your router.
VNC servers start automatically during boot, unless you have selected Desktop from dietpi-autostart configuration tool.
To enable a different startup setup, run from the command line the main DietPi tool: dietpi-launcher or directly. dietpi-autostart To see all the DietPi configurations options, review DietPi Tools section.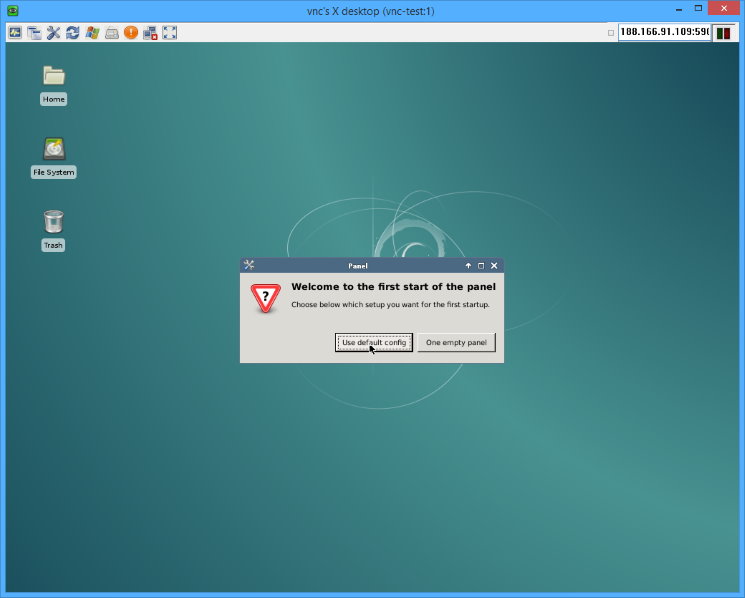 VNC Server - Shared desktop¶
Edit dietpi.txt and enable VNC server to run in shared desktop mode:
and change to value 1 next line
SOFTWARE_VNCSERVER_SHARE_DESKTOP=1



A running desktop is required in this mode, please set desktop to start from boot:
VNC Server - Resolution settings¶
Here it's an example on how to run VNC server on screen :1, creating a new desktop with 1280x720 resolution:
SOFTWARE_VNCSERVER_WIDTH=1280




SOFTWARE_VNCSERVER_HEIGHT=720




SOFTWARE_VNCSERVER_DEPTH=32




SOFTWARE_VNCSERVER_DISPLAY_INDEX=1



Restart service:
systemctl restart vncserver.service