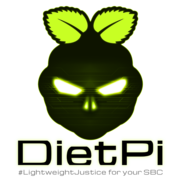 DietPi | Minimal image at its core¶
Optimised | Simplified | For everyone¶
Welcome to the DietPi Documentation¶
What is DietPi?¶
DietPi is a highly optimised & minimal Debian-based Linux distribution. DietPi is extremely lightweight at its core, and also extremely easy to install and use.
Setting up a single board computer (SBC) or even a computer, for both regular or server use, takes time and skill. DietPi provides an easy way to install and run favourite software you choose.
Quote
"Just wanted to say thank you for DietPi. As someone who's intermediate at best with Linux and SBCs in general, its made everything so much more accessible. I don't have that much time to tinker and I need things to generally work out of the box with little fuss. DietPi has made it possible for me to be running Nextcloud, Pi-hole, NZBGet and more on a Raspberry Pi 4 with minimal effort. Sure Docker could do the same but there is something about running things natively that I like.
Automation features like DietPi-Backup and Drive Manager are just the icing on the cake to a great ecosystem.
Thank you for DietPi." Reds, DietPi Forum
Getting started¶
If you are new to DietPi, the Install provides a tutorial for everything you need to get DietPi running.
If you need help, and have read through Getting Started, check out Troubleshooting.
For more details visit the DietPi Community Forum.
Easy to install popular software¶
You can quickly and easily install popular software ! All of them are READY TO RUN and optimised for your system. The list of available apps is long , and for the full list checkout DietPi Optimised Software page. Here are few highlights:
Desktops (MATE/Xfce)
Remote Desktop (VNC/NoMachine)
Media Systems/Players (Kodi/Plex/Murmur)
Torrents/Downloading (Transmission/Sonarr/Radarr)
Cloud/Backup (Nextcloud/Syncthing)
Gaming (Amiberry/MineOS)
Social, Surveillance, Hotspots, System Stats, Hardware Projects, Stacks (LAMP/LEMP), Pi-hole, VPN, File Servers, Home Automation and Printing and much more…
DietPi does everything for you, giving you more time to enjoy the software you need.
What is supported?¶
Check Supported SBCs page for recently supported list.
Note: "Supported" is not a guarantee. "Supported" implies a particular SBC is at a high level of software maturity, but has no intention to support all possible SBC functions.
Community¶
Have some feedback, questions, suggestions, or just fancy a chat? Visit our community!
Collaborate on the project¶
How ?
Fork the project https://github.com/MichaIng/DietPi or the documentation MichaIng/DietPi-Docs.
Make one or more well commented and clean commits to the repository.
Perform a pull request in GitHub's web interface.
If it is a new feature request, don't start the coding first. Remember to open a GitHub issue to discuss the new enhancement.
If you find our project useful¶
We would really appreciate it if you would consider contributing to the project however you can.
Donating is the easiest way to help us via PayPal or become a Patron.
Thank you !